Monitor Keywords
Track your keywords on Google, view stats of which keywords are up or down so that you can optimize them better.
Have you ever wanted to know how your keywords rank on Google, if they're moving up or down, or where you stand in comparison with your competition? Now it's super easy to find out with a great keyword tool for Joomla! Our new Keywords Manager allows easy "Joomla Keywords Monitoring", where you can view all of your keywords--in one convenient location--to see how they rank on Google so you can easily make correction.
How It Works:
Adding your keywords is as easy as pie, but what happens next? How can you tell whether those keywords are ranking well on search engines? How do you track your keywords on Google?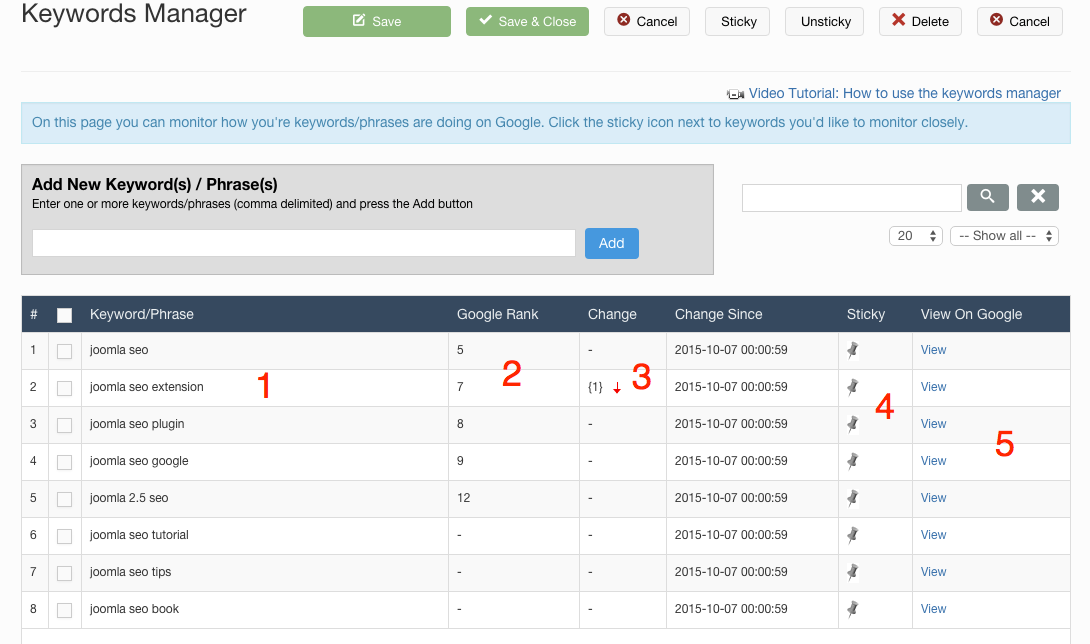 Google Placement
The keywords manager displays a list of all your keywords (1) and their placement on Google! (2) You can even see if their positions have risen or fallen since the last time you checked (3). This not only gives you great insight into how well you're doing with your keywords, but it also allows you to quickly optimize tags and content to improve your ranking, its the perfect Keyword tool for Joomla

This feature alone can cost from $50 to $250 per month on other software and the amount of keywords you can monitor is usually limited to 3, 10 or 50 keywords! When you purchase iJoomla SEO, you get an unlimited number of keywords to monitor and you don't need to pay a monthly fee. You even get free upgrades for the duration of your subscription.
Sticky It!
Some keywords are more important to you than others and now you can make these keywords "sticky," so you can easily find them (4).
View on Google
See the keyword on Google and find your page in the search results or learn what other top sites are doing to win their high rankings (5).
Features Summary
Track your keywords on Google.
Joomla Keywords monitoring the easy way! See which keywords are up or down.
Make some keywords sticky so you can easily monitor them.
View the keywords on Google, who your competition is and what they're doing better than you.